Want to know how to get beautiful and perfect eyebrows from the comfort of your home without going to the spa? These step-by-step eyebrow hacks are for you. I will be sharing with you some eyebrow hacks every girl should know.
Some people are born with beautiful and perfect eyebrows, there are some of us that is not that lucky. I have put together a list of the best eyebrow hacks every girl should know. So if you want to grow your brows or you have thin eyebrows, really thick and overgrown eyebrows, or if you're new to makeup and need a simple beginner's guide to eyebrows, then you are welcome.
Hacks like eyebrow growth, shaping and plucking hacks, and how to fill in your brows with makeup so they look natural yet full.
Good eyebrows are always in style. Eyebrow trends change from year to year, but lately, the bigger and lusher, the better. This doesn't mean you should let your brows get unruly- we've uncovered some tips and tricks to keep your brows on fleek! And when it comes to growing your brows? There are a few key eyebrow hacks you definitely need to know! Read on if you want the best brows of your life.
Eyebrow Hacks Every Girl Should Know
How to Grow Eyebrows
1. Leave Those Brows Alone.
The first eyebrow hack is to stop treaming them. It can be tough not to shave, pluck, wax or thread your eyebrows, especially if you feel like you've been doing it your whole life. But if you want your eyebrows to grow healthy, you have to leave them alone. Don't perform any type of grooming for at least 12 weeks – it can take up to a year for your brows to grow in fully, so you have to do your part in allowing them to grow naturally and flourish.
2. Comb Those Brows.
Combing is another eyebrow hack. Did you know that when you comb your brows, it stimulates growth? Pick up some spoolie brushes and run/brush them through your brows on a daily. It will help them grow lush and also ensures you keep them tamed.
3. Exfoliate Those Brows.
Exfoliating is a great eyebrow hack. Just like brushing them, exfoliating your eyebrows also stimulates hair growth which is a great eyebrow hack. After cleansing your face, apply an exfoliator to your brows and the skin around them (I love La Roche-Posay Ultra-Fine Face Scrub for Sensitive Skin as it gets the job done without being too harsh). Massage your brows in a circular motion, then rinse the product off. Exfoliate your brow area three times a week to get the best results.
4. Vaseline Your Brows.
Naturally, the skin needs to be hydrated, the same goes with your brows, if you need your brows to grow well, then you need to hydrate and nourish it, that is why vaseline is a great eyebrow gack. Vaseline creates a sealing barrier and helps lock in moisture to speed up your skin's natural recovery process. Clean and dry your brow area, and apply vaseline 3 to 4 times a week.
Another eyebrow hack is growth serum. Apply an eyebrow growth serum to your brows daily. Many growth serums out there work by conditioning your hair and renewing its natural renewal cycle. You'll notice a difference in the amount and strength of your eyebrow hair due to nourishing ingredients that will restore and repair your brows.
6. Use An Oil.
Similar to vaseline, you can use other oils like castor oil, coconut oil and jojoba oil to promote brow growth by creating a barrier that locks in moisture. Oil also goes one step further by increasing circulation and stimulating cellular metabolism. Apply any oil of your choice to your brows before going to bed and let it sit on overnight.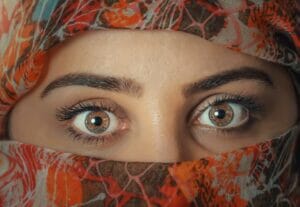 How To Shape Eyebrows.
Once you have grown your eyebrows to the length of your choice, it's just about the right time to shape them to be perfect. Here are the steps to shape your brows to perfection:
7. Figure Out What The Best Eyebrow Shape For Your Face Is.
Just like our faces are different, so are our brows. Every face will look better with a certain eyebrow shape. Just because a brow shape looks good on your friend or favourite celebrity, doesn't necessarily mean it will look good on you.
People with round faces tend to look best with structured brows with angled arches and longer ends, while people with heart-shaped faces often look best with soft, rounded arches that complement their sharp angles. Finding the shape that works best for you is a key first step to a perfect and beautiful brow.
8. Trimming Time.
There are different tools used to trim the brow, it all depends on the one you are conversant with. Use eyebrow scissors or razor blades to trim down your long brow hairs, just make sure you don't snip them too much. To ensure you don't crop them too much, brush your hair up with a spoolie and only trim the long hairs, one hair at a time.
Read Also: Natural Hair Growth Tips
9. Use Facial Oil.
Tweezing the eyebrow can be painful depending on how you do it. To make this process as pain-free as possible, use a facial oil to lubricate your skin and hair follicles. Gently massage a generous amount of oil to your brow bone to get that area prepped for tweezing to come. This will help prevent the hair from breaking and make it easier to tweeze without pain.
10. Pluck Away.
Use a tweezer to pluck any unruly hairs. Make sure not to over pluck, and tweeze the hairs in the direction of hair growth, while holding your skin taut. Look for stray hairs between the two dots at the beginning of your brows, as well as beneath your arch and beyond the end of the tail.
How to Draw A Perfect Eyebrow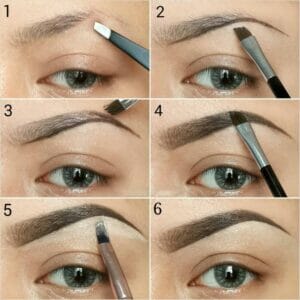 If you want to get thicker eyebrows using makeup, follow these steps.
11. Use Natural Light When Tweezing Your Brow.
When you are ready to tweeze your brows, never do them in bathroom lighting. You can either use fluorescent lights or yellow mood lights that can throw off your judgment. Get a mirror and sit next to a window. Natural lighting will help you get the most natural brows possible.
12. Do Not Make Use Of A Magnifying Mirror.
Magnifying mirrors can tempt you to overpluck. Just use a regular mirror, and make sure you see your whole face. If you're new to plucking your eyebrows yourself, from time to time, stop plucking and look at the mirror, to know if you are doing it right.
13. Outline.
Using an eyebrow pencil, create an outline by drawing a line underneath your brow. Using the same pencil, create hair-like strokes to fill in sparse areas.
14. Define.
Use an angled brush and a coloured pressed powder in the same or a similar shade to your brows and the eyebrow pencil. Define the shape of your brows, but don't fill the inside corners of your brows too much. Also, stay away from making the endpoints too harsh so it's not obvious they are drawn.
13. Clean It Up.
Use a spoolie brush or small children's toothbrush to brush through your brows, picking up any excess powder. Use the brush to blend lines and create a natural brow look.
14. Conceal The Line.
To really get a definition for your brows, apply concealer or foundation underneath your arch using a concealer brush with a flat head. This will wipe away any excess brow product and have your brows looking natural and gorgeous.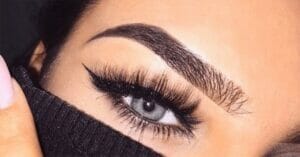 Best Eyebrow Products to Invest In.
Anastasia Beverly Hills Brow Powder Duo
Looking for a natural, textured finish for your brows? This brow powder is the one for you. With two shades to create multidimensional colour, your brows will have never looked better!
Maybelline Total Temptation Eyebrow Definer Pencil
This brow pencil features a teardrop tip and spoolie brush so you can achieve a soft, natural-looking brow! Frame your eyes and fill in your brows easily with this awesome eyebrow pencil.
Tweezerman Tweezers
If you want to create the perfect eyebrows, you need the perfect tweezers. These ones feature perfect precision tips for grabbing hairs so you can rest easy about your plucking parties.
Queen of the Fill Tinted Eyebrow Makeup Gel
This eyebrow makeup gel gives you a hair-like texture without looking painted on. It coats each hair, filling in sparse brows, with a quick application that delivers just the right amount of product.
NYX Eyebrow Cake Powder
If you want spot-on brows, this compact includes two shades of powder to fill and define your brows just the way you like. Blend the shades for a natural brow look, customizing them to create your perfect shade.
Read Also: 15 Proven Ways to Get Plump Lips Without Injections
Conclusion
Believe me when I say this "If you follow these tips and eyebrow hacks every girl should know" you will get the best and perfect eyebrows ever.
Free Access To Email Exclusive Content
Get notified and be the first to know when new & hot content drops