Avocado; The Wonder Fruit
Does this fruit require any sort of introduction at all?
Avocado (with the scientific name Persea americana), is one of the most popular fruits on the planet and a favourite to many. Indeed, the site of this bright green fruit is mouth-watering. In this article, we shall focus on avocado oil hair and skin benefits.
Avocado stares in so many recipes, in addition to being a stand-alone deliciousness! Examples of such recipes are salads and spread for bread and the popular guacamole dips. This smooth and creamy fruit is native to Mexico and North America but is widely enjoyed by people all over the world.
Avocado is called a climacteric fruit because it only ripens after harvesting. Avocado is very popular for its high level of healthy fat, which can be very effective in reducing cholesterol. Avocado is particularly preferable to butter as a spread for bread because it contains fewer calories.
Avocado contains almost 20 vitamins and minerals. The following nutrients are found in a 100-gram serving of avocado:
• 485 milligrams of pottasium
• 81 micrograms of folate
• 0.257 milligrams of vitamin B6
• 10 milligrams of vitamin C
• 2.07 milligrams of vitamin E
There are many health benefits of avocado, especially its role in pregnancy, promoting healthy vision, blood pressure regulation, aiding digestion, promoting heart health, and many more.
One of the most essential components of the avocado fruit and our focus in this article is the oil.
AVOCADO OIL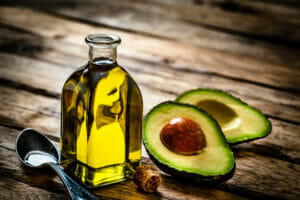 Avocado oil is made from avocado fruit. Although this oil can be consumed raw, it can also be used as a cooking oil because of its mild taste.
NUTRITIONAL COMPOSITION OF AVOCADO OIL
Avocado oil is a good source of oleic acid, vitamin E and monounsaturated fat. Avocado oil is also an excellent source of lutein. Lutein is a carotenoid, a type of vitamin found in the yellow, orange, and red pigments in certain plants which gives these fruits and vegetables their colours.
In addition, one tablespoon of avocado oil contains the following:
• Calories: 124
• Protein: 0 grams
• Fat: 14 grams
• Carbohydrates: 0 grams
• Fiber: 0 grams
• Sugar: 0 grams
Health Benefits of Avocado oil
As seen in the health benefits of avocado fruit discussed above, the same could be said about avocado oil, after all, the oil is derived from the fruit.
In summary, avocado oil promotes healthy hair and skin, improves eye health, reduces symptoms of osteoarthritis, improves heart health, regulates blood pressure and many more.
Avocado Oil Hair and Skin Benefits
Among other incredible health benefits, avocado oil has numerous benefits to the hair and skin. They are discussed below.
AVOCADO OIL SKIN BENEFITS
The following are the benefits of avocado oil to the skin:
1. In the prevention and treatment of acne: The anti-inflammatory properties possessed by avocado oil can help to reduce the inflammation associated with acne. For preventive measures, apply avocado oil to the skin for short periods and rinsed off with warm water. This will help to can keep skin hydrated without leaving an oily residue and ultimately reduce the risk of acne.
2. In the treatment of sunburns: Avocado oil is rich in antioxidants. This property may help to ease symptoms of sunburns. Studies have revealed that vitamin E, beta carotene, vitamin D, protein, lecithin, and essential fatty acids in avocado oil can support healing and soothe the skin. In addition, research has shown that consuming avocados may help to protect the skin from harmful UV radiation.
3. In wound healing: In the process of healing, the body creates new protective tissues and as stated earlier, avocado oil possesses anti-inflammatory properties. This proves that the essential fatty acids in avocado oil help reduce inflammation during the healing process.
Also, avocado oil may help wounds to heal more quickly. Studies have shown that the essential fatty acids and oleic acid in avocado oil can promote the synthesis of collagen, which is the process of creating new connective tissue.
4. For skin moisturization: Avocado oil contains several nutrients including potassium, lecithin, vitamin E, etc. The outermost layer of skin,( called the epidermis), easily absorbs these nutrients, thus moisturizing and providing nourishment to the skin.
5. In reducing signs of ageing: Aas earlier stated, avocado is rich in healthy fats. This can help the skin to retain its elasticity. However, further studies are needed to confirm this.
6. Avocado oil may be good for your nails: It has been proven that using natural oils to keep the nails and surrounding skin soft may help to reduce breakage. This may also apply to avocado oil, as it may be used to heal dry brittle nails.
7. Avocado oil can be used in baths: Adding a few tablespoons of avocado oil to a bath can leave the whole body feeling soft and help to prevent hot water from drying out the skin.
8. As a facial moisturizer: You may notice that avocado oil is an ingredient in your favourite face creams and moisturizers. However, you can have your own homemade avocado oil face moisturizer. To do this, take the inside of an avocado peel and massage it into your face. Leave the residue on for about 15 minutes, then rinse the face with warm water. Bottled avocado oil can also be used to moisturise the face at night. Wash it off the following morning.
AVOCADO OIL HAIR BENEFITS:
Avocado oil has loads of health benefits and one part of the body that benefits from this amazing fruit, is the hair. The following are the benefits of avocado oil to the hair:
1. Moisture and strength: Remember the nutritional composition of avocado oil we talked about earlier? We stated that avocado oil is a good source of oleic acid and monounsaturated fat. This makes it one of the few oils that can penetrate the hair shaft and moisturize the hair, rather than sitting on top and coating the hair. These fats also strengthen the hair shaft and help prevent breakage.
2. In promoting a healthy scalp: Having stated earlier that avocado oil is a good moisturizer for the skin, the same can be said about the scalp. The monounsaturated fats in avocado oil make it a great solution for individuals with dry or sensitive skin. Avocado oil can quickly penetrate the second layer of the skin (the dermis), providing a deep moisturizing treatment to the scalp.
3. For Growth: Avocado oil contains vitamin D. this vitamin is crucial for developing new hair follicles. Use avocado oil on your scalp and throughout your hair to maintain and encourage hair growth!
4. UV protection: Remember that avocado oil can protect the skin from sunburns, in like manner, this wonder fruit oil which contains Vitamin E, can reverse and heal the damage done by the sun's rays. Vitamin E also helps with general hair repair and protection.
5. In the treatment and prevention of dandruff: Dandruff/ flaky scalp is often due to dryness. Because of avocado oil's ability to quickly penetrate and moisturize the skin, it can relieve this condition. To achieve this, massage avocado oil into the scalp to soothe the skin.
6. In detangling hair: Because of the moisturizing nature of avocado oil, it can be useful for detangling hair. To achieve this, apply avocado oil to the ends of the hair. Using the fingers, coat the ends of the hair in a small amount of oil for smoother brushing. Using a wide-toothed comb, gently comb through tangles until the hair begins to unknot. A smaller toothed comb or hairbrush can then be used to continue brushing the hair.
7. Avocado oil can help to prevent hair breakage: The strands of hair can break if they are dry and brittle. Coating the hair with a thin layer of avocado oil can make it more flexible. This may help to prevent hair from breaking when you brush it or tie it up.
8. Surprise- avocado oil can help to prevent premature greying of hair! Cold-pressed, unprocessed avocado oil contains the natural pigment chlorophyll which is responsible for the beautiful greenish colour of avocado. Chlorophyll has multiple hair benefits that include the ability to delay the appearance of grey hair. It stimulates the production of melanin in melanocytes present in the hair follicles, and by so doing, preserves the natural hair colour.
HOW TO MAKE AVOCADO OIL
You can make your avocado oil at home and enjoy all these amazing benefits. To achieve this, simply follow the steps below:
1. First, mash the avocados into a smooth paste. This can be done using a hand masher or blender/food processor. Once mashed, spread the avocado paste in a thin layer over a parchment paper-lined tray or similar surface. Aim to keep the layer below 1/2-inch thickness. Use multiple trays, if necessary.
2. Dry the avocado paste by allowing it to dry naturally in a well-ventilated area (away from direct sunshine) for a few days. The amount of time this takes may differ depending on the climate/weather where you live. You may also use a dehydrator to speed up this process.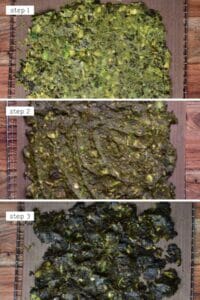 3. Extract the avocado oil. Place the avocado paste in a nut milk bag, muslin cloth, or similar material. You can now either hand-squeeze the oil into a container or leave it to naturally drain, squeezing it at the end of the draining process to get the last of the oil.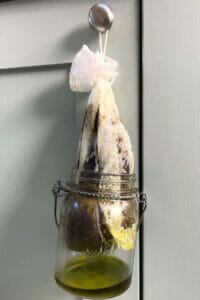 There, you have it. Your homemade avocado oil! Easy isn't it?
CONCLUSION
The avocado fruit is packed with essential nutrients, in addition to being one of the sources of healthy fat. The oil extracted from this delicious fruit has lots of amazing benefits for the skin and hair. Avocado oil can be extracted in a simple 3 steps process and is very easy to use.
Free Access To Email Exclusive Content
Get notified and be the first to know when new & hot content drops