Protective Hairstyles for Natural Hair Growth can be very challenging at times. Natural curly hair especially 4c hair is naturally dried and it easily breaks. Protective hairstyles help keep your natural hair moist and help it limit the direct sunlight from hitting it, which overall makes the hair grow faster.
Before getting protective hairstyles for natural hair growth, it is important for your hair to be in good shape or condition before getting a protective hairstyle.
When it comes to deciding on how to transition your hair from relaxed hair to natural, it requires a lot of commitment. However because when you are dealing with different hair textures at once, this might need more time every morning, it doesn't imply that you're boxed in when it comes to styles. There are numerous looks to try that not only protect new growth but also make you feel outstanding during the in-between phase.
Even if you are done transitioning from relaxed hair to natural, there is still a need to protect your natural hair with some good protective styles.
If you've decided on the hairstyle you want to make, you'll want to be careful of scalp pressure and secure the foundation is not too tight if not, it will lead to scalp soreness and headaches. Over tight braids can make you lose your hair instead of growing it.
If your hair always breaks off quicker than it grows, then know that it will not get any longer. Protective styles preserve your natural hair ends by protecting them from possible damage. Beneath, we've assembled some special protective styles for natural hair growth that you can make and feel youthful.
How Do I Preserve My Protective Hairstyles For Natural Hair Growth?
If you want to preserve or maintain your protective hairstyles for natural hair growth so that it will last longer and still look neat and new as if you just came out from the salon. The first step to this is to always make sure you have your hairnet or satin bonnet or silky scarf readily available at night before you go to bed. Satin bonnet or silky scarf is not like cotton, the advantage of silk is that it will enable you to maintain moisture and eradicate frizz, this will help your protective hairstyle look good and last longer than it should be.
Just be aware that without your satin bonnet or silky scarf, don't expect your natural hairstyle to stay long, as you know that natural hair easily pulls out fast than relaxed hair.
It is also important that you use natural hair oils for your hair, there are some good oils in the market that are very good for your natural hair, you need to talk to hair experts to know which is recommended for your natural hair.
Then when you want to apply the oil, it is advisable to apply it on your scalp and edges, it is very important to give your hair at least 3-5 minutes of massage and this should be done like two times a week to help your edges grow strong and full.
Like I said before it is almost impossible not to see your natural hair coming out in some weeks after making your hair even if you are religiously using your satin bonnet or silky hair scarf, so please be sure to have mousse at home all the time.
Read Also:Natural Face Care for Black Skin
How Long Should Protective Hairstyles for Natural Hair Growth Last on My Natural Hair?
Naturally, there shouldn't be a specific date or time for a protective style but depending on the style, a style like faux locks or knotless braid can last up to two to three months if taken care of very well unlike ghana weaving is likely to start bringing out your natural hair in less than a week. To make your natural hair grow naturally, try to always trim the top at least every six months.
Nevertheless, it is great to know that you have many protective styles to do that will still last long for you. Now let's take you down the lane to some names of protective hairstyles for natural hair growth.
Short Braids (protective hairstyles for natural hair growth):
Simply because you can have a lengthy protective style doesn't imply you must have a lengthy one. The pressure of a lengthy protective style can stimulate stress and pressure on your scalp and can bring injury to the follicles, try as much as possible to make a shorter protective style sometimes to avoid stressing your natural hair with a lengthy one. Short braids are very elegant and will still give you a better look than a long one will give.
Bantu Knots (protective hairstyles for natural hair growth):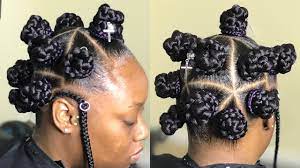 Bantu knots is one protective style for natural hair that never goes out of fashion, this hair has been in vogue since the early 90s and will still be there in the future ahead, and making this hair is as easy as A B and C, all you have to do is to part your hair into neat sections, take one part of it and twist it from the root to the top, take the same twist and use it to form a bun, and use the tip to safeguard it, repeat this process with the other parted sections then use gel to brush the excess hair in to make it look neat. That is it.
Bob Marley Braids (protective hairstyles for natural hair growth):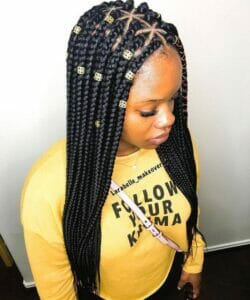 The name Bob Marley braid was coined from the reggae musician Bob Marley, because of the nature of the natural hair he was with then, there is a twist for this hair that you can buy from the market and make like that and there is another one your hairstylist can make for you with an attachment.
Just as Bantu knots, the protective style Bob Marley can never go out of fashion, the twist can just be wrapped under your weaved hair just like a crochet braid, without stressing your natural hair, you can easily maintain it and it lasts long before it grows old.
Faux Locks (protective hairstyles for natural hair growth):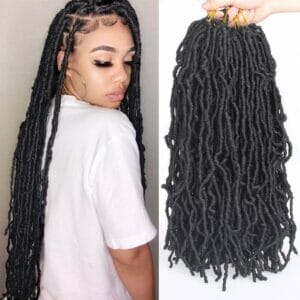 This is one protective style for your natural hair that can cause a stir when you are passing, faux locks look so elegant on hair and it's very easy to style.
There are two ways you can fix this hair, it's either you use a crochet pin to make it or you wrap it under your hair. This hair can protect your edges and also last longer for you than some other hairdo. Try making this protective style today and feel the beauty of it.
Read Also:11 Natural Skincare Routine for Black Skin
Knotless Braids (protective hairstyles for natural hair growth):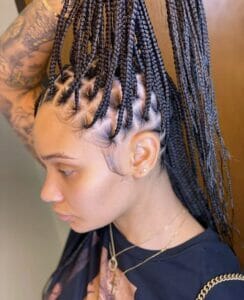 Knotless braids are popular, easy to maintain, and easy to style anyhow you want it, this style has been in existence for a long time now and it can be created by using creating a knot at the root of your hair so as not to stress your hair too much, by so doing there won't be much tension on your scalp. When it is done this way it will help to reduce hair breakage.
Be sure to always use your natural hair oil to massage your scalp for more shine and a lasting hairdo.
Flat Twist (protective hairstyles for natural hair growth):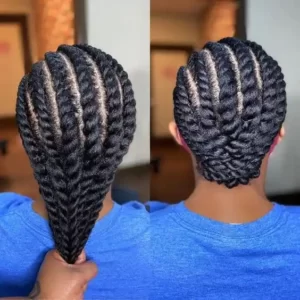 The flat twist is a beautiful combo of cornrows and our regular traditional twist, there are lots of pictures of flat twist when you search for it, if you want to get the same curl pattern, the flat twist is recommended for you, to get a beautiful and neat twist at the end of the day, make sure you use a styling gel and don't forget to always use a spray gel to hold do more lasting hair
Crochet Braids (protective hairstyles for natural hair growth):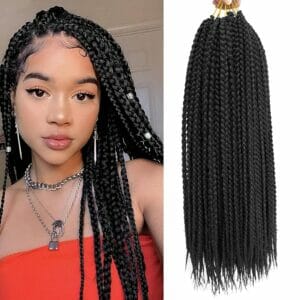 Crochet braids have their special look and beauty that it gives, and their method of making make it's safer for protecting your natural hair and making it grow longer, you first cornrow your natural hair then use a crochet hook to put in the extension, crochet braids comes in many styles, easy to maintain and they are also easy to style, last long and very fast to install. Crochet braids have different categories and you can make your choice, styles like crochet box, crochet twist out, Senegalese twists, water wave braids, faux locks, straight crochet braids, and more.
Pineapple (protective hairstyles for natural hair growth):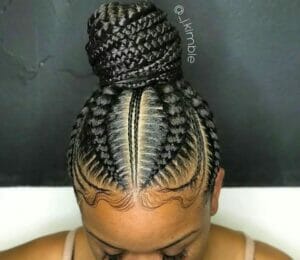 This style is a very quick and easy protective style to make, you can also use it to protect the curls in your hair when you go to bed, and it can also wear it as a style. Gather all your hair to the front of your hair and tie it with a head tie or fancy hair wrap. If you have short hair, you can part your hair into two sections and wrap it, then apply natural hair oil that can enhance the curls.
Ponytail (protective hairstyles for natural hair growth):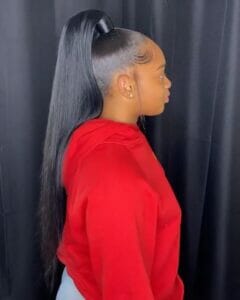 Ponytail has been a good protective hairstyle for ages now, it doesn't fade and its fitting is top-notch, ponytail helps you keep your natural hair well protected and it's very easy to make. When making a ponytail protective hairstyle sure to use natural hair gel to hold the edges well and to avoid losing front hair.
Natural Twisted Style
(protective hairstyles for natural hair growth)
: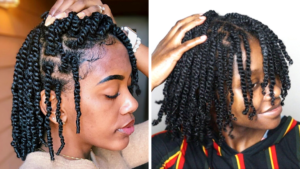 If you are looking for one of the most popular hairstyles, it is a natural twist, it's a hairstyle that you can keep for long without feeling any weight on the hair, this hair is so easy to carry that the more it stays the more beautiful it is, a twisted natural protective style is a yes for both long and short hair. And always remember to massage your hair with a natural hair oil for more shine and beauty.
Braided Extension Bob(protective hairstyles for natural hair growth):
This protective style for your natural hair is mostly suitable for short natural hair, it's beautiful and comfortable to go about with. This hair can be embellished with beads to make it more fanciful and beautiful, you can't go wrong with this protective style if you have short natural hair.
To make it last longer and shine, you can use an oil sheen to spray when going out.
Flat twisted Bantu knot
(protective hairstyles for natural hair growth)
: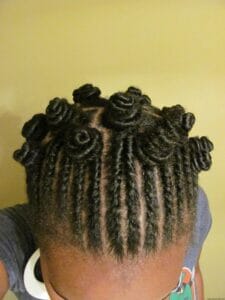 Whether you have long hair or short hair, this protective hairstyle without extension is sure, it's super easy to go with, you won't even feel you are carrying anything on your head, a flat twisted Bantu knot is great for hot weather. To make it look sparkling all time, always use a natural hair cream on it.
Read Also:How to Get Rid of Pimples on Your Forehead – 9 Home Remedies to Try
Dreadlocks (protective hairstyles for natural hair growth):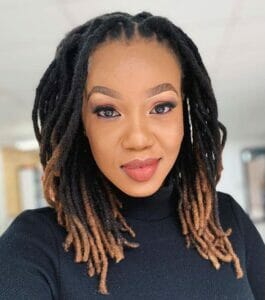 Natural dreadlocks have come to stay and it's a forever thing, you can use this protective hairstyle is a permanent loc or a temporary one, some keep this hair for years and it never grows old, the older it is the more beautiful it looks, natural dread loc helps your hair grow so fast when it is well maintained. Always keep the spray bottle that contains hair oils and aloe vera gel with you whenever you feel dryness on your hair to spritz the hair as its food.
Wigs (protective hairstyles for natural hair growth):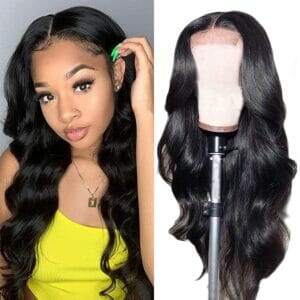 Wigs are an incredible protective hairstyle, the good thing about wigs is that you can use different styles anytime any day, all you need to do is to make a cornrow on your natural hair and whenever you are going out you wear your wig, with this your hair will not cut or feel stressed all the time.
But be sure to maintain your wig so as not to have a smelly wig, when you sweat wigs tends to have some odour, so when you get home always try to allow air to touch it before keeping it for next time use and don't forget to wash now and then for better maintenance.
Headwraps (protective hairstyles for natural hair growth):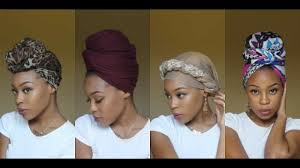 Yes head wraps are a stunning way of protecting your natural hair and it's not fading away anytime soon, there are so many beautiful heads wraps you can use on your head when there's a bad hair day, there are some days you don't feel like doing anything to your hair and trust me when I say that headwrap is a sure thing for you, the beauty it enhances is wow,
People are bringing in new styles of this wrap every day, even Ankara headwrap goes with everything. Give it a try and thank me later
Conclusions
Now you have known that there are many types of protective styles for natural hair, you don't need to be scared to go natural, there are great styles for you that you will wish you would have gone natural before now.
Why not give these styles a trial one after the other as most of the styles are good for any type of face.
And always remember to pamper your natural hair anytime you loosen your hair so that you won't get breakages.
Free Access To Email Exclusive Content
Get notified and be the first to know when new & hot content drops