How accurate are at-home covid tests? This is a question many people ask a lot because it is not so easy to trust the at-home covid tests considering how dangerous the virus is and the many problems it has caused across many countries in the world.
When the COVID-19 pandemic started, people who noticed symptoms had to go through a lot of stress just to get tested at an authorised medical centre. Because of this, many people kept quiet about their symptoms, which made things worse for themselves and those around them.
However, the good news is that today, you do not need to go through such stress; you can test for covid from the comfort of your home, and it only takes a few minutes. So, if you are one of those still asking how accurate are at-home covid tests, this guide has all the answers you seek.
See also: Pregnancy Test At Home – A Practical Guide
When to Test for Covid
Covid-19 usually start to show symptoms about 2 to 14 days after exposure to the virus, so if you think you have been exposed and you notice some of the symptoms listed below, then you should take the at-home covid tests.
Headache.

Nausea or vomiting.

Shortness of breath.

Loss of taste or smell.

Fatigue.

Runny nose or congestion.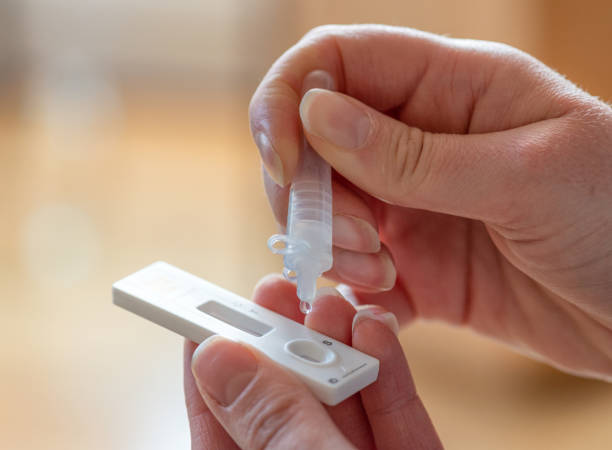 How Accurate are At-Home Covid Tests
The at-home covid tests are also called rapid antigen tests; they are very accurate, up to about 85%. Samples for the tests are collected from the mouth or nose with a swab, or you can collect a sample of saliva in a tube. The test can be done by anyone at home who can follow the instructions. However, they are not as accurate as the PCR covid test done in the medical laboratory.
The accuracy of the rapid antigen tests depends on some factors, which are listed below:
If you do not have any symptoms of COVID-19.

If you test too early after an exposure to the virus.

You have a variant of the virus that the rapid antigen test cannot detect very well.

You didn't get a good sample.

You are starting to recover.

You didn't use the test correctly.

The test was damaged or expired.

You have a very mild case of covid.
These factors can give you a false negative or positive result, but most rapid antigen tests are meant to be used in a series, so you should retake the tests after 2 to 48 hours.
More than one negative result means you are less likely to be infected with the virus. But if you are still not convinced with your results, take a PCR covid test at a lab.
In addition, there is no research to determine which brand of rapid antigen test is more accurate, so it is impossible to tell which one is best to use. However, the factors we listed above can affect any brand of covid test, so it doesn't matter which one you use.
What Should you do if Your at home COVID Test is Positive?
If you follow all the instructions and your covid tests are positive, you should immediately notify your doctor or healthcare provider and follow the NCDC guidelines for quarantine and isolation. Then you also need to reach out to all the people you have come in contact with recently so they can take the test too to ensure they are safe.
It is also advisable to do another confirmation test before you make your conclusions on your positive test results.
Does a Negative Home Test Mean You Are in the Clear?
If you are sure you have followed the test carefully and got a negative result, then you do not have COVID-19 at that time. There are still cases where a covid test can give a false negative result, especially when you do the test too early in the course of the infection. You can repeat the test after a few days to be sure, or you can take some time to watch the symptoms.
At-home covid tests are very useful preliminary tests to help you quickly confirm if you have COVID-19 or not; however, whatever your results are, you must not neglect the fact that there are chances of false results, even though it is less than 1% of the time. So if your symptoms persist and your test comes back negative, or if you have no symptoms and your test comes back positive, you should do a confirmation test.
Free Access To Email Exclusive Content
Get notified and be the first to know when new & hot content drops