Lots of people see snacking as an unhealthy habit that needs to be stopped. The truth is that snacking can be part of a healthy lifestyle if we snack the right things. There are lots of healthy snacks recommended by a dietitian that you can add to your lifestyle.
Having unhealthy or healthy snacks depends on what you choose to snack on because not all snacks are made equally. Lots of snacks available in the supermarket are mostly highly processed and contain high amounts of sugar, saturated fats and artificial ingredients. When going for snacks, opt for foods that are high in protein and fibre as these will keep you feeling fuller for a longer period.
Your snacking habits can greatly affect your day. Having a snack is a good way to tame hunger, especially if you do go more than four to five hours between meals. To build a stomach-filling/satisfying snack that keeps you full between meals, aim at getting a mix of protein, fiber, and fat.
A great and perfect time to boost your nutrient intake is during snacking. Snacking nutritious food groups like fruits, vegetables, fiber is a great choice for your overall health.
To help you stock your kitchens, I have put together some of the best options you can always have at hand. Always having these healthy snacks on hand will boost your nutrient intake and at the same time tame afternoon hunger. They are healthy snacks recommended by dietitians, and they will keep you feeling for a longer time.
Healthy Snacks Recommended By A Dietitians
1. Chia Pudding:
Chia seed is tiny in size, but mighty in its contents. These healthy snacks have great health benefits. Just an ounce of chia seeds (2 tablespoons) contains 9 grams of unsaturated fat, omega 3, 11 grams of fiber, and 4 grams of protein, and are a good source of calcium, magnesium, and phosphorus, its also got antioxidants. The high fiber content present in it helps to balance blood sugar, promote gut health, and reduce the risk of cardiovascular disease. Chia seed will keep you full for a longer time.
With chia seeds, there are dozens of flavour combinations, for you to try, so get creative.
2. Carrots With Nut Butter: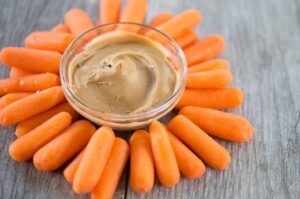 This carrot and nut butter are tasty and healthy snacks. Carrots with peanut or almond butter are both a little sweet, salty, and crunchy. This snack is easy, convenient, portable, and also satisfying snacks.
3. Rx Bars:
Registered dietitian Liz McMahon recommends these Rx Bars as a go-to snack. You can find this snack everywhere in supermarkets from Target to Whole Foods. They are made from whole ingredients like nuts and dates, and get their extra protein from egg whites. With 12g of protein per bar. It's a satisfying snacks and can fill your tummy until your next meal.
4. Apple Or Pear With Nuts Or Nut Butter:
This is another powerful and tasty combo that is healthy and also satisfying snacks. Apples and pears both contain fiber, especially their skin, while nuts are packed with a mix of plant-based protein, healthful fats, and fiber, so together they do a great job of satisfying your appetite while managing blood sugar.
5. Granola:
This food is an healthy snacks and it's so crunchy and satisfying, filing and offers a balanced mix of protein, fat, carbohydrates, and fiber. You can add this granola to your oatmeal or yogurt for some crunch, or even eating a handful with a spoonful of peanut butter.
6. Lara Bars: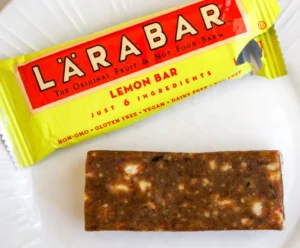 Lizzie Streit, a registered dietitian, recommended Lara Bars as they are delicious and very satisfying snacks. They are loaded with fruits, seeds, nuts and also rich in fiber. They also come in different flavours like apple pie, carrot cake, and cashew cookie.
Read Also: 9 Healthy Nigerian Food To Eat At Night
7. Hard-Boiled Eggs: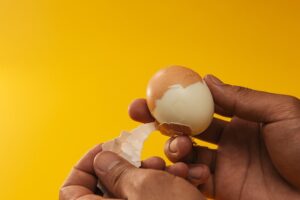 Eggs are a great source of protein, fat-soluble vitamins. It's got almost all the nutrients that the body needs. Because the smell is super strong, do not remove the shell until you are ready to eat. And yes, it is super satisfying.
8. Red Grapes, Cranberries, Or Pomegranates:
Snacking on red grapes, cranberries or pomegrantes is extra beneficial to your overall health. A registered dietitian Melissa Rifkin, RD, says that fruit that are deep red or purple in color is especially beneficial to your heart and the antioxidants found in these fruits are what give them their coloring and are also responsible for their heart health benefits.
9. Popcorn:
Popcorn is another healthy snacks and it's high in fiber. It is crunchy, inexpensive, and very easy to make at home. These whole grain snacks can boost your fiber intake and add vitamins and minerals like B vitamins and iron. When making your own popcorn at home, watch those toppings, because a heavy hand with butter, salt, or caramel can quickly take it from healthy to indulgent. You can enjoy your popcorn more with groundnut, and it becomes very satisfying snacks.
10. Roasted Almonds: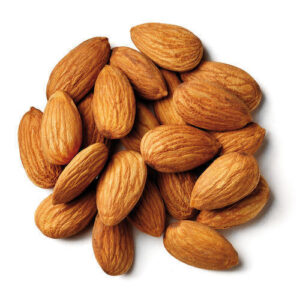 Roasted almonds are one snack that will satisfy and keep you full for a longer time because of the protein and fiber content in them, and they are healthy.
11. Dark Chocolate:
Darck chocolate is a good snacks because it is a good source of iron and it contains antioxidants. When goind for chocolate, make sure it is high in cocoa like about 70% or more. Aways have it at the back of your mind that chocolate is still high in calories and fat so make sure to stick to the recommended portion size of approx. 20g (about 2 squares of your average Lindt bar for reference). It also contains caffeine so careful not to eat it too late at night.
12. Chickpeas: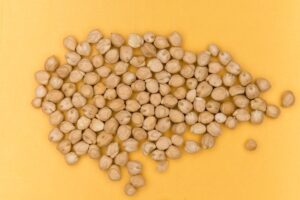 Chickpeas are a great snack because they are loaded with nutrients for satisfaction like fiber, protein, and they are slow-digesting carbs.
13. Greek Yogurt And Frozen Cherries:
Yogurt is not only great as breakfast, but it is also a great snack, too. It is tummy filling because it's high in protein and it also contains calcium. Beyond your typical yogurt parfait, use plain Greek yogurt to make either sweet or savory dips and pair with fruit, vegetables, nuts or whole-grain crackers.
This combination is so healthy and it is a satisfying snacks. It's good for bones, heart, and brain.
Beet Chips

Cottage Cheese with Fruit or Vegetables

Walnuts

Popsicles

Lime Chips and Fresh Guacamole

Hummus and Vegetables

Rice Cake With Avocado

Peanut butter

Plant Based Yogurt

Baby Cucumber

Nuts

Kiwis

KIND Fruit and Nut Bars

Avocado toast

Salmon and crackers

Pumpkin seeds

Oat
Read Also: 12 Healthy Habits Your Body Needs
Conclusion
These healthy snacks recommended by dietitians are snacks that can be a part of a healthy diet, whether making your own or relying on something from the package. When making a choice, choose from whole foods, pair foods that include protein, fiber, and fat, and limit added sugar and salt to stay energized between meals while also reaching your wellness goals.
Free Access To Email Exclusive Content
Get notified and be the first to know when new & hot content drops