What are the benefits of fruits and veggies to our health? Fruits and veggies are very essential to health – because the daily intake of fruits and veggies boost your immune system and have many benefits that go with it, there are many fruits and vegetables you can eat and your whole body will thank you.
In this post, I have outlined highly nutritious 15 fruits and veggies that can be of great benefit to your health.
But before we dive in, let's look at the differences between fruits and veggies.
Difference between fruits and veggies
A lot of people know that fruits and vegetables are good for health but not everyone knows the difference between them, fruits and veggies can be classified from both botanical and culinary points. Fruits grow from the flower of plants while the other parts of the same plant can be categorized as vegetables. Fruit contain seeds, and vegetables are roots, leaves, and stems.
Fruits and vegetables are classified on taste, fruits have sweet tastes and tart flavors, which can be used for snacks, juice, dessert, and more.
Veggies on the other hand have a savory or mild taste and can be eaten as a main dish or side dish. Now the question is what are the benefits of fruits and veggies to our health, what are their health benefits?
15 Fruits and Veggies and Their Health Benefits
1. Apples – Benefits of Fruits and Veggies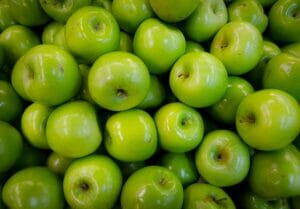 Apple is a very popular fruit that is full of nutrition and health benefit. Apple is rich in soluble and insoluble fiber, such as cellulose, hemicellulose, and pectin. These can help you to manage your sugar level, support guts, and heart health, and help in quick digestion.
Apples are also a good source of vitamin c and plant polyphenols, these are diseases fighting compounds found in plants. More intake of apples can lower your risk of being overweight, stroke, obesity, cancer, and heart disease.
Note that the polyphenols found in apples are mostly below the skin, so try and eat it to get the complete benefits.
2. Bananas – Benefits of Fruits and Veggies
The health benefits of bananas can not be overemphasized. It goes beyond their potassium content. It provides 7% of the daily value (DV)
Vitamin B6: 27% of the DV

Vitamin C: 12% of the DV

Magnesium: 8% of the DV
That's not all, bananas are high in prebiotics, which is a kind of fiber that helps in the growth of beneficial bacteria in the guts, bananas also offer a plant called polyphenols and phytosterols, both supporting your overall healthy growth.
Take note that unripe bananas are higher in starch than the yellow ripe ones, they are a source of dietary fiber pectin, which has been linked to numerous health benefits, which include blood sugar control and better digestive health.
Meanwhile ripe bananas are the best source of easily digested food, which makes it great to fuel on before workout for the day.
Read Also: 14 High Blood Pressure Food to Avoid
3. Oranges – Benefits of Fruits and Veggies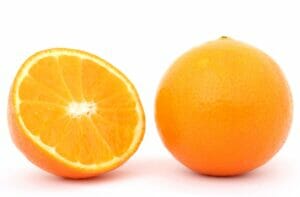 Orange is well known for its high vitamin C content, it provides 91% of the DV in just one fruit. They are high also in fiber, potassium, vitamin B1, folate, plant polyphenols, and thiamine.
When you take a whole orange juice It provides a high amount of antioxidants and nutrients. however, it lacks dietary fiber. Those that add the pulp does add fiber, so go for the whole orange with the pulp. Studies show that when you consume the whole orange, it lowers the level of cholesterol, blood pressure, and blood sugar level.
Having said that, please try to eat a whole orange instead of just the juice.
4. Mangoes – Benefits of Fruits and Veggies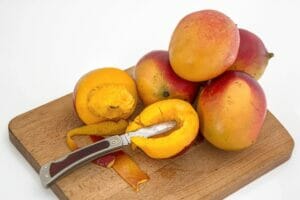 Mango is known and called the king of fruits because of its great source of fiber, folate, potassium, and vitamins A, B6, C, E, and K. Mangoes are also rich in polyphenols that have anti-inflammatory properties and antioxidants.
Mangoes in particular are high in mangiferin, a potent antioxidant, studies have shown that it may protect the body from diseases such as heart disease, Alzheimer's, type 2 diabetes, Parkinson's, and other types of cancer.
Mangoes also contain fiber that helps to aid digestive health and support regular bowel movements.
5. Avocado – Benefits of Fruits and Veggies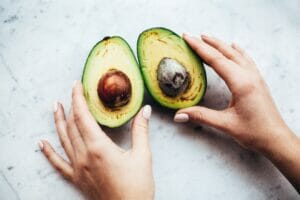 Avocados are low in natural sugar and high in healthy fats, unlike other fruits.
Avocados contain a high amount of vitamin B6, folate, potassium, fiber, vitamin E and K, and 2 carotenoids, which are known as zeaxanthin and lutein – which are good for the eyes. They are also made of oleic acid, it's a monounsaturated fat to better the heart.
In 2020 study shows that there's a decrease in cholesterol levels and an increase in blood lutein levels among people who ate an avocado a day for 5 weeks
Being compared by weight, avocados have high calories than many other fruits. But the study shows it's for better health management. The high fiber and fat content in it promote fulness.
Read Also: 7 Amazing Benefits of Fruit Salad
6. Pineapple – Benefits of Fruits and Veggies
Pineapple is amongst the most popular fruits in the world.
A cup of pineapple, (165) grams provides 73% of the DV for manganese and 88% of the DV for vitamin C
Manganese is a great support to metabolism and blood sugar regulations and acts as an antioxidant.
Pineapples also have several polyphenolic compounds that have anti-inflammatory properties and antioxidants.
In addition, pineapple also has an enzyme called bromelain which is commonly used to make meat tender, some sources claim that this enzyme may support digestion, though the research about this is limited.
7. Strawberries – Benefits of Fruits and Veggies
Strawberries are many people's favorite because of their sweet taste, strawberries are very nutritious, delicious, and convenient. They are a great source of vitamin C, manganese, and folate.
Strawberries are filled with plant polyphenols that act as antioxidants, such as phenolic acid, flavonoids, tannins, and lignans.
Strawberries in particular are high in anthocyanins, proanthocyanidins, ellagitannins. Studies have shown that these reduce the risk of serious diseases.
To add to all these, they have a low glycemic index which means they won't affect your blood sugar level.
8. Watermelon – Benefits of Fruits and Veggies
Watermelon is very nutritious and it's many people's favorite, it has enough sources of antioxidants, lycopene, vitamin A and C, and beta carotene. It is also good for magnesium and potassium.
Here are some nutrients in a cup of about 152 grams of diced watermelon
Vitamin A

, 5% of the daily value
Watermelon is one of the highest sources of lycopene, any diet that is high in lycopene lowers the level of oxidative stress and inflammation. The nutrient can also reduce the risk of cancer, type 2 diabetes, and heart diseases.
Amazingly, beta carotene and lycopene can also provide minor skin protection, help your skin heal fast, and reduce the risk of sunburn. But that shouldn't stop you from using sunscreen to keep your skin protected.
Read Also: 14 High Blood Pressure Food to Avoid
Lastly, watermelon has a very high content of water, it's high in both water and potassium, it can help to hydrate and replenish electrolytes on a hot summer day.
9. Spinach – Benefits of Fruits and Veggies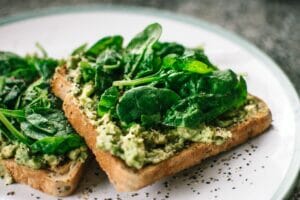 Spinach is a green vegetable and it's a wonderful source of vitamins, iron, calcium, and antioxidants.
A cup of spinach is mainly made of water and contains just 7 calories, calcium also provides
Full daily requirements of an adults vitamin K

A great amount of vitamin A

Folate

Magnesium

Iron

Vitamin C

Antioxidants

Calcium
Vitamin K is good for the body, it strengthens the bones, it improves the absorption of calcium.
Spinach also provides a great amount of iron for healthy blood and energy, and a great level of magnesium for nerve function and muscle.
Spinach is also rich in antioxidants, and research shows that spinach can lower blood pressure and be of benefit to a healthy heart.
10. Peas – Benefits of Fruits and Veggies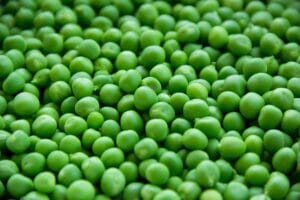 Peas are starchy, sweet vegetables that contain 134 calories for a cooked cup and they are rich in
Vitamin A, C, and K

Certain vitamin B

Fiber

Protein
Peas are a good source of protein, which is beneficial to vegetarians and vegan dieters.
Green peas contain fiber, that supports good bacteria in the guts and it also helps to ensure regular bowels movement and a healthy digestive tract.
Peas are also very rich in saponins, which may help protect against stress and cancer.
11. Guava – Benefits of Fruits and Veggies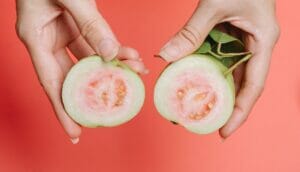 Guava is a very good source of vitamin C, guava is not only good as fruit, but the leave also does great wonder too to human health as well. Some amazing benefits of fruits and veggies to our health can be found in guava. Single guava of about (55grams) provides up to 140% of the daily value for these nutrients.
To add to this, guava contains the highest amount of lycopene to compare other lycopene-rich fruits and vegetables like watermelon, tomatoes, and grapefruits.
Guava is also a great source of antioxidants, like various flavonoids and beta carotene.
As guava is very high in nutrients and antioxidants, eating it regularly may help the health of your heart, kidney, eyes, and skin.
It helps protect the body against some diseases and boosts a healthy immune system.
Guava may also help to reduce sugar levels, this is great news for people suffering from diabetes. A study shows that people drinking guava leave tea lowers their blood sugar level – especially when taken after a meal.
Read Also: 8 Delicious Delicacies for Nigerian Homes
12. Tomatoes – Benefits of Fruits and Veggies
Although tomatoes are a type of fruit — lots of people use them as a vegetable. They are used for delicious dishes as well. One cup of blended or chopped raw tomatoes contains
24mg of vitamin C

32 calories

427mg of potassium
They also contain lycopene, a strong antioxidant. Research shows that lycopene may be of help in the prevention of cancer, also the beta carotene in tomatoes helps in the prevention of combatting cancer.
Meanwhile, there are other potent antioxidants in tomatoes such as lutein and zeaxanthin which may protect the vision.
The Age-related eye disease study says that people who take high dietary food have a 25% reduced risk of age-related macular degeneration.
Note: tomatoes can be eaten raw or cooked but cooking it releases more lycopene.
13. Sweet potatoes – Benefits of Fruits and Veggies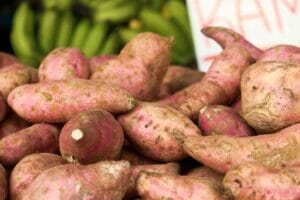 Sweet potatoes are root vegetables that are baked in their skin, a normal-sized sweet Potato comes with 103 calories and 0.17g of fat.
A medium-sized sweet potato contains:
Very much of an adult's daily requirement of vitamin A

12% of potassium requirement

25% of vitamin C and B6 requirement

Beta carotene is good for the eye and fights against cancer.
Sweet Potatoes are good options for people that have diabetes because sweet potatoes are low in glycemic index and it is rich in fiber, so they can be of help in the regulation of blood sugar.
Sweet potatoes are very rich in beta carotene, 200 grams of orange baked sweet potato with skin give you seven times the amount of beta carotene that an adult needs in a day.
14. Carrots – Benefits of Fruits and Veggies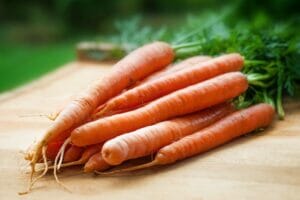 Carrots are great vegetables that are rich in vitamins. People mistake carrots for fruits, a cup of chopped carrot contains 52 calories and up to four times an adult daily recommended intake of vitamin A, and it's a form of beta carotene.
Vitamin A is very good for eyesight, and when you get enough of the nutrient it will help to prevent vision loss.
There are also some nutrients in carrots that may help to fight cancer. A review in 2018 of 10 articles reports that taking dietary carrots was associated with reducing the risk of breast cancer.
15. Garlic – Benefits of Fruits and Veggies
A lot of people use garlic daily either to cook or as medicine. One small-sized garlic contains 4 calories, and it's low in minerals and vitamins.
Garlic, however, is a natural antibiotic, research shows that garlic has been used as an antibiotic since the 16th century.
A clove of raw garlic (3 grams) contains:
Vitamin B6,

2% of the daily value

Manganese,

2% of the DV

Vitamin C,

1% of the daily value

Fiber,

0.06 grams

Selenium,

1% of the daily value

A reasonable amount of Iron, phosphorus, vitamin B1, potassium, calcium, and copper.
When you eat garlic regularly, it will help you detoxify heavy metals in your body. Garlic also helps to reduce many clinical signs of toxicity including blood pressure and headaches.
Read Also: 14 High Blood Pressure Food to Avoid
Conclusion
Fruits and vegetables are naturally healthy for your body.
There are numerous benefits of fruits and veggies to our health than the ones listed here.
I could write a full book about this and will still not come to the conclusion of all the benefits of fruits and veggies especially when it comes to our body and health.
For example, a regular intake of fruits and veggies makes you look younger, feel light, and I assure you that you will not fall sick often.
So try to make fruits and veggies part of your daily living routine if you want to keep your health and body in fine form.
Free Access To Email Exclusive Content
Get notified and be the first to know when new & hot content drops