Nigerian beans porridge, also known as stewed beans, is a common food that is found in many Nigerian families. In Yoruba, it is known as "ewa" which means "beans." It tastes a lot like Ghanaian "red red" and is ideal for vegetarians.
Are you in search of how to cook Nigerian beans that are different from the regular ones you know? Read on and see how I put you through every step of the way to make that delicious beans.
When we were younger, our parents advised us to consume beans if we wanted to grow taller. Many individuals dislike this dinner, mostly because of the "gas problems" that it causes. It has been linked to bloating, gas, and indigestion. But it doesn't change the fact that it has a lot of advantages: it's high in protein and fiber, and it helps with bowel movement and digestion. If eating beans makes you gas, then it was not properly washed.
Stewed beans are popular because they are inexpensive and filling. It is easily available to anyone and may be prepared without much hassle or additional ingredients. It is a popular dinner among students since it is an inexpensive method to feed a large number of people at once.
In an interview with a professional caterer. She shared with me a delicious recipe on how to cook Nigerian beans – fast food style. Below are the things you will need to make these delicious Nigerian beans.
How To Cook Nigerian Beans With A Twist
Recipes:
Beans (any type of your choice)

2 Big Onion

Palm oil

Crayfish

Seasoning cube (Maggi)

Fresh pepper

Salt to taste

Dry fish

Dry prawn

Shombo

Steps To Take Before Cooking Your Nigerian Beans
1. After buying the beans of your choice (honey beans, butter beans, or white beans), pour them into a tray and select the beans out. Get rid of stones shaft or any foreign body.
2. Soak the beans for 5 hours in cold water. Boil the beans for 5 minutes, then drain. Set aside the beans after washing them in cool water. This soaking and pre-cooking technique will aid in the reduction of gas-inducing components. Do these a day before you plan on cooking your beans, and store them in your freezer. This will help reduce your cooking time on the said day to make your beans. But if you want it fresh that same day, wash it and cook it for 20 minutes.
3. Once your beans boil, drain the water out and re-rinse in cold water twice.
4. Put back the washed beans into your pot and back on the cooker. Chop one onion into the beans and leave until the beans are soft. Keep checking on the beans and add water if needed until they get tender.
Procedure On How To Cook Nigerian Beans
1. Once your parboiled beans are soft, then you are ready to make your delicious Nigerian beans. If you have a pressure cooker, you can use it to parboil your beans, cause it cooks them much faster.
2. Get your pepper sauce ready by getting your fresh tomatoes, fresh pepper, onions, and shombo properly washed, and grind them together.
3. Blend/grind your crayfish and keep it on a small plate.
4. In a pot, put your palm oil and put the pot on the cooker. Let the red palm oil get hot and bleached just a little.
5. Add chopped onions into your bleached oil and fry for a minute.
6. Add your pepper sauce to the hot oil and stir. Fry as though you are making stew. And keep stirring so it does not burn.
7. Remember your dried prawn, blended crayfish, and your washed dry fish? Now is the time to add it. And keep stirring.
8. Add your salt and seasoning(Maggi) to taste.
9. After 5 to 10 minutes, add in your soft parboiled beans.
10. Add water to the beans, so they can cook properly. But be very careful with the quantity of water you add to your beans. Add it bit by bit.
11. Cook for at least 20 minutes.
Note: If you want to use yam/plantain/sweet potatoes, you can add them after step 9.
12. Your Nigerian beans is ready, you can now serve as desired.
Did you notice the colour? It's sooo beautiful and delicious.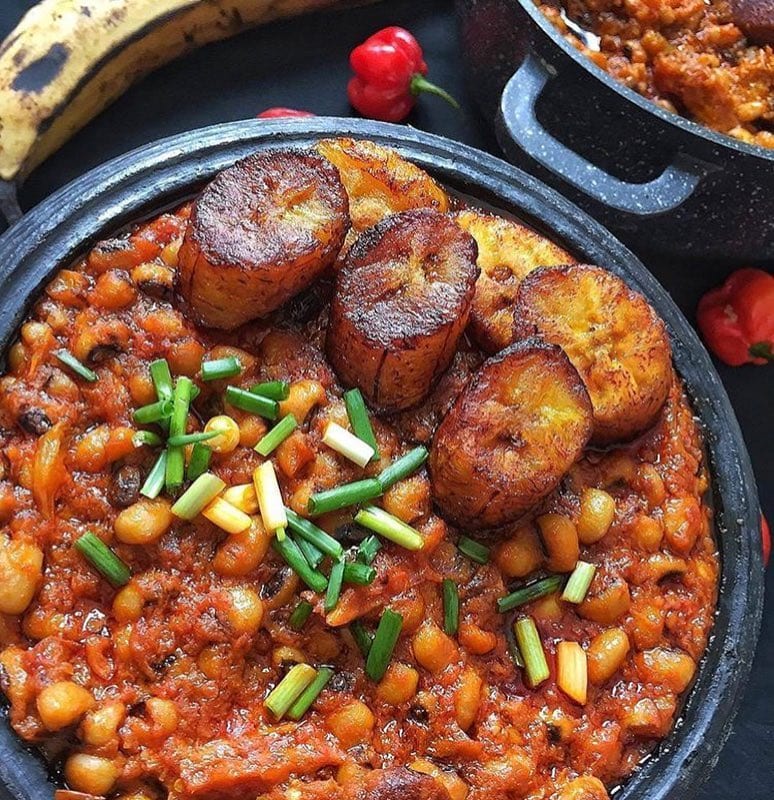 What Can I Serve Together With Nigerian Beans
If you are looking for what you can eat together with your delicious Nigerian Beans. Well, this it's an easy solution.
According to Mrs. Ozioma, Nigerian beans can be eaten in different ways and with other food, which is one of the reasons I so much love this food. There are lots of things you can combine with your Nigerian beans and still have your mouth loaded with wonderful tastes. The food you can eat together with your beans are:
White rice

Jellof rice

Fresh bread

Eba

Smoke Garri

Fried yam

Potatoes

Unripe Plantain

Fried plantain

Ogi (pap)
Nutrients Found In Nigerian Beans
Calories: 153kcal

Carbohydrates: 6g

Protein: 1g

Fat: 14g

Saturated Fat: 7g

Polyunsaturated Fat: 1g

Monounsaturated Fat: 5g

Cholesterol: 1mg

Sodium: 241mg

Potassium: 99mg

Fiber: 1g

Sugar: 3g

Vitamin A: 49IU

Vitamin C: 11mg

Calcium: 15mg
Why Does It Take So Long To Boil Nigerian Beans?
Nigerian beans are extremely hard and require a large amount of water to soften. Cooking time for Nigerian beans is around 40–50 minutes before adding any seasoning. This is why I recommend parboiling your beans a day before you cook your beans. If the beans are not soft enough, do not add anything else it will remain hard and won't be pleasant to eat.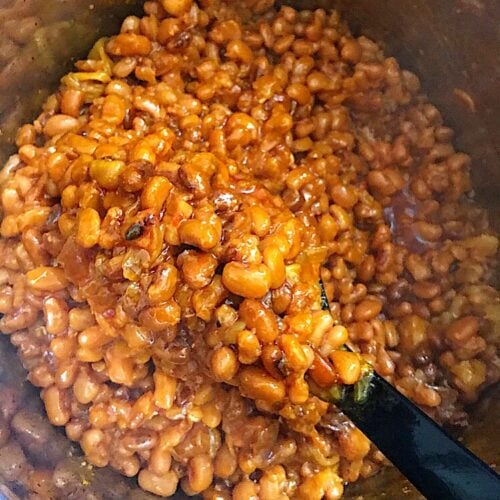 How Do I Store My Cooked Nigerian Beans?
Nigerian beans porridge may be kept fresh by refrigerating or freezing it. If you are not going to consume the beans right away, let them cool and store them in a closed plastic container in the coldest area of the fridge. When ready, microwave for 4 minutes before serving. Nigerian beans can be stored for as long as 1 month.
Conclusion
Nigerian beans is a common food that you find in most Nigerian family homes, especially homes with children. Students find this food very satisfying or tummy-filling.
Beans are packed with nutrients, especially for growing children. Whether you are new to cooking or you have been cooking for a long time, this method of beans cooking will be a game changer.
Free Access To Email Exclusive Content
Get notified and be the first to know when new & hot content drops