Nigerian Chicken Stew is one delicious thick stew that is made with tomatoes, bell pepper, onions, grilled or fried chicken & spices. If you are a lover of chicken, you will definitely love this Nigerian chicken stew.
Below, I have a detailed written chicken stew recipes and how to prepare it step by step.
video lovers, here is a video on How to Cook Nigerian Chicken Stew.
Nigerian Chicken Stew
As a Nigerian, we all have the memories of our mother's cooking she made for us as kids. Most of these dishes remain in our memory from childhood to adulthood. One of such dish is this delicious and easy Nigeria Chicken stew. This stew is deep, rich and so flavoured.
Every mother has her own different recipes and how she makes her chicken stew, and they all taste yummy.
From my own childhood experience, as a teenager, every Saturday i would go to my mom's cool room store and bring home a freshly frozen chicken. My mother will end up using this fresh chicken to make a delicious, tasty and spicy chicken stew which we usually eat with white rice and sometimes white yam or potatoes.
Just like i mention earlier, different families have their own recipes and how to prepare it. This chicken stew recipe is quite simple, but the balance of flavours is truly incredible.
I came in contact with a woman who makes such delicious chicken stew with a twist. In her own preparation process, she roasted or grilled her pepper which brings out a deeper flavour. Check out her jollof rice recipe.
What Is Nigerian Chicken Stew?
Nigerian chicken stew is a thick, and very delicious stew made with Chicken, Fresh Tomatoes, Tomato paste, Red bell peppers, Garlic and Onions. It is spiced up and seasoned with thyme, Ginger, Curry powder, Smoked Paprika, Salt, and Pepper.
How To Make Nigerian Chicken Stew
In this chicken recipe, there is something a bit different from the traditional way. You get to roast the peppers in the oven, and this single act brings out more flavour in the stew and also intensifies its appealing bright red colour.
You can also season and browned the Chicken pieces before cooking it in the stew.
Spicy Stew
There are some people who like their stew spicier or pepperish. You can make the stew spicier by adding more hot pepper and make it less spicy by reducing the quantity of hot pepper you put in the stew.
Apart from habanero or scotch bonnet, you can also use Red Chilli pepper, jalapeno pepper, or any other hot chilli of your choice.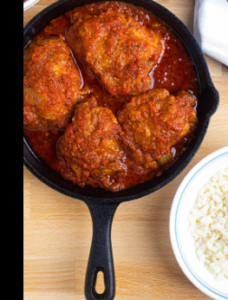 What To Chicken Stew Eat Chicken Stew With
This delicious chicken stew can be served with different foods like yam, potatoes, rice, bread, pasta, spaghetti and so much more.
How To Store Or Preserve Your Chicken Stew
If you make a big batch of your delicious chicken stew and you are wondering how you can serve and preserve it. Well, worry no more because you can store your chicken stew in the fridge for up to 2 weeks and you can store it in the freezer for as long as 3 to 4 months. And whenever you are ready to use the stew,
Read Also:How to Cook Delicious Ogbono Soup
Nigerian Chicken Stew: Recipes And How To Prepare It
Ingredients Used:
Chicken:

You can make use of chicken thighs, chicken wings, chicken drumsticks or any parts of chicken that you prefer. The cooking process is still the same no matter what you use. Some people prefer making use of dark meat because it holds its shape well in the stew. But if you use chicken breast, it might break apart in the stew.

Vegetables:

Use Roma tomatoes or fresh blended tomatoes, red bell pepper, habanero pepper, ginger, garlic, onion. These vegetables form the base of the red spicy sauce.

Spices:

Bouillon powder, thyme, black pepper or Cameroon pepper, curry powder, knor maggi, salt.

Other Ingredients:

Olive oil or groundnut oil and chicken stock/broth.
Ingredients In Detail
Roast
3 Red Bell Peppers (Tatashe)

4 Tomatoes Medium size

2 Habanero pepper Scotch bonnet – Ata rodo

1 medium Onion

5 Cloves Garlic

1 Inch Ginger Root
Chicken
8 Chicken drumsticks

1 tsp Thyme

1 tsp Paprika

1 tsp curry powder

Salt and pepper to taste

½ Cup Vegetable oil

2 tbsp. diced onion
Stew
1 medium onion diced

1½- 2 Cups Chicken Stock

1 Tsp Curry Powder

1 Tsp Rosemary

1 tsp Paprika

2 bay leaves

2 Tsp chicken bouillon powder or 2 Chicken cubes
Procedure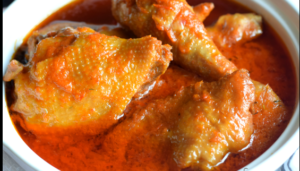 Slice the tomatoes, peppers, and onions into two halves and place them in a sheet pan alongside the garlic cloves. Brush generously with oil and place in a 425F preheated oven and roast for 30 minutes or till slightly charred. Blend everything with the ginger root and set aside.

Season the chicken with paprika, thyme, curry powder, salt, and pepper. Set aside.

In a large skillet, heat oil over medium heat, add 2 tbsp from the diced onions, and cook till the oil becomes fragrant.

Add the chicken legs and fry until they become well browned on both sides—about 10 minutes on each side. Remove from pan and set aside.

Add the remaining diced onions inside the same pan where the chicken was fried. Cook till the onions become translucent. Add the blended sauce and bay leaves and cook for 5 to 10 minutes.

Add the chicken broth, paprika, curry powder, rosemary, bouillon powder, black pepper, and salt to taste.

Gently put the fried chicken in the sauce and leave to simmer until the chicken becomes tender about 20 minutes – a little more or less depending on how big your chicken is.

Stir occasionally to prevent burning and adjust the thickness of stew with water or stock if necessary.

Serve over white rice, pasta, couscous, or eat with freshly baked bread.
Nutritional Content Of Chicken Stew
Calories = 255kcal
Carbohydrates = 10g
Protein = 14g
Fat = 18g
Saturated Fat = 11g
Cholesterol = 58mg
Sodium = 293mg
Potassium = 466mg
Fiber = 2g
Sugar = 5g
Vitamin A = 1594IU
Vitamin C = 58mg
Calcium = 27mg
Iron = 1mg
Read Also:10 Yummy Easy Yam Recipes For The Family
Conclusion
Nigeria chicken stew is a delicious Nigeria stew. The taste is out of this world. This stew is very easy to make. The recipes and how to prepare this mouth-watering Nigeria chicken stew is easy to find and prepare.
I hope this article has been helpful to you. Good luck!!!
Free Access To Email Exclusive Content
Get notified and be the first to know when new & hot content drops